SERVICES
Inclusive Services
- Bed-linen, towels for the bathrooms, towels for the kitchens (weekly change)
- Electricity
- Water
- Gas for cooking
- Satellitare-TV in each apartment
- Swimming-pool at our guests disposal
- Private parking inside our AGRITURISMO

Not Inclusive Services:
- Final cleanings (€ 150,00 for each apartment)
- Heating (to be paid according to consumption)
- Extra change of bed-linen (€ 15,00 per bed)
- Telephone (connection time)
- Woods for fireplace (€ 28,00 per 1 quintal = 220.50 lb.)
- Extra cleanings on request (€ 15 0,00 per each apartment)
- Breakfast (on request; price to be arranged directly with us): usually we serve coffee, milk, tea, cappuccino, marmelades and butter, different types of bread, homemade-cakes, yogurt, cornflakes, cheese, ham, fruit-juices, fresh fruit.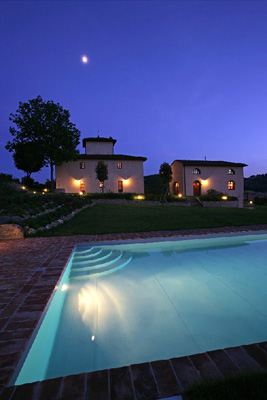 DINNERS, BUFFET AND TASTING
In the high-season period, the Zannelli family is arranging dinner or buffets where typical Tuscan products are served or where the guests may taste local wines, cheeses or olive-oils. On our guests request, we can arrange special dinners or tastings.
MUSEUMS BOOKING
On request, we may book for free the tickets to enter in the main museums in Florence (for example in Uffizi or Accademia). By booking these tickets, our guests do not need for hours to get in a museum!
SHOPPING BASKET
On request Euro 50,00 with the following products:
1 Kg of pasta - 1 Kg of spaghetti - Tuscan bread
Tuscan cheese - Extra-virg. olive-oil from our farm
Red wine from our farm - 6 eggs from our farm
1 salami - Can of tomatoes - Water - Coffee
Yogurt - Sugar - Milk - Butter - Salt - Tea -
Slice-biscuits - Biscuits - Marmelade